Name of Regional Directorate: Bhubaneswar
Jurisdiction: OdishaAddress: Ground Floor, Alok Bharti Tower, Sahid Nagar, Bhubaneswar – 751 007
Name of Regional Director: Shri Kulkarni Abhijeet Dattatraya
Contact details: (CRM: 9311765336); Ph: 0674-2542107, Fax: 0674-2545874, E-mail: Ro.bhubaneswar@ncdc.in

(Route map of Directorate): https://goo.gl/maps/os8LUfRU7Pxu18vr8
Cooperatives in Odisha:
S.No.
Category of Societies
Number
1
Apex State Level Cooperative Organizations
9
2
Central Societies
125
3
PACS
2710
4
CARD Banks
45
5
Urban Coop. Banks
11
6
Employees credit & Thrift Coop. Societies
303
7
Credit & Thrift (including MPCS(Credit), WMPCS
(Credit), Women(Credit) Coop. Societies
159
8
House Building Coop. Societies
144
9
Primary Consumer Coop. Societies
169
10
Labour Contract Coop. Societies
66
11
Multipurpose Coop. Societies
247
12
Women & Women Multipurpose Coop. Societies
196
13
Fruit & Vegetable Coop. Societies
55
14
Canteen Coop. Societies
23
15
Other Coop. Societies
248
Total
4510

(Source: https://rcsodisha.nic.in/)
Implementation of NCDC Programmes in Odisha:
Financial support by NCDC:
Up to 31.03.2023, NCDC has provided total assistance of Rs.3334.4926 crore benefiting various Cooperative projects/units as below:
S.No.
Scheme/Activity
Cumulative Disbursements as on
31.03.2021 (Rs. in crore)
1
Marketing & Inputs
46.67
2
Sugar
20.04
3
Textile
20.72
4
Processing
7.19
5
Weaker Sections
30.03
6
Consumer
7.91
7
Storage& Cold Storage
26.84
8
Integrated Cooperative Development Project (ICDP)
31.51
9
Promotional Schemes
0.03
10
Service & Agri. Credit
2908.02
11
Assistance for Computerization
0.16
12
FPO
1.44
13
FFPO(PMMSY)
0.19
14
Other
230.73
Total
3334.49
Sector wise cumulative disbursements as on 31.03.2023 (Rs. in Crore)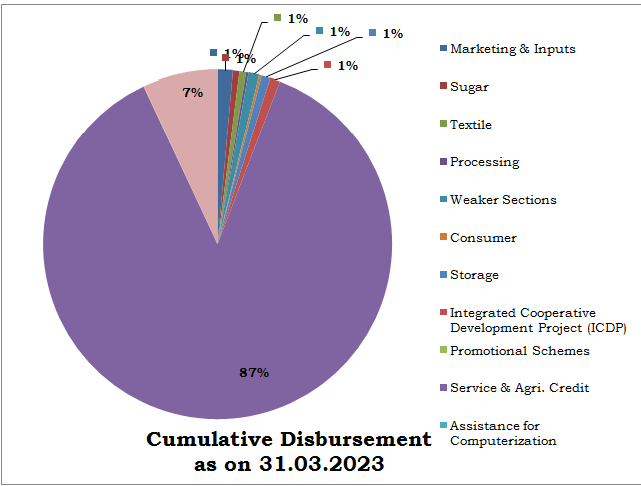 Achievements during last 5 years (Up to 31.03.2023):
NCDC has played a significant role in the development of cooperative sector of Odisha state. NCDC has funded different dairy projects, ICDP projects, godown & cold storage, cooperative banks, apex level marketing federations, CSR project etc. and looking forward to nurture and support them on cooperative principles.
Year
Sanction
Release
2017-18
121.50

33.42

2018-19
7.35
4.65
2019-20
1.60
3.747
2020-21
1.43
0.80
2021-22
7.10
3.92
2022-23
6.49
1.55
Highlights of the programmes assisted and other relevant achievements/ issues:
Provided assistance to cooperatives under direct funding schemes of NCDC. Total sanctions during last five year is Rs. 48.08 Cr under for 65 units.
In last 5 years PACS have been assisted for construction and up-gradation of Godowns/showrooms in the Odisha region.
2 awards have been received for excellent work in Hindi language from the Chairman, NARAKAS (Department of Official Language Ministry of Home Affairs, GoI).
During 2020-21, RTC Bhubaneswar has conducted 5 online trainings for the co-operators/ representatives of PACS.
An internship has been successfully completed under Sahakar Mitra scheme of NCDC.
NITI Aayog has identified 10 Aspirational Distrits in Odisha i.e. Koraput, Malkangiri, Rayagada, Gajapati, Nuapada, Kandhamal, Kalahandi, Bolangir, Dhenkanal & Nabarangpur. NCDC is concentrating on generation of proposals under direct funding during visits to these districts for nurturing of the primary cooperatives.
Flagship Programmes of NCDC:
PMMSY: State level training cum workshop conducted in Chandipur, in which more than 300 participants from all the districts of Odisha participated. 2 district level workshops in costal districts of the state are proposed in the current financial year.
Sahakar Mitra: 2 batches of Sahakar Mitra interns have completed their internship successfully. Under the scheme, interns prepared model business reports.
FPO: 6 CBBOs have started the work towards formation of 17 FPOs in Odisha.
FFPO: 2 CBBOs have started the work towards formation of 5 FFPOs in Odisha.
Development Opportunities in the State through Cooperatives:
The traditional financing activities like margin money assistance & working capital assistance for business expansion to primary cooperatives will give further boost in the state.
There is a prominent scope for financing of weaker section activities such as fisheries, tribal, handlooms and women.
Possibilities for creation of infrastructure for storage and marketing and input needs of apex federations like (FISHFED and MARKFED) will be further explored.
Nurturing of Primary Cooperatives–Field visits will be undertaken to collect information for nurturing primary level cooperatives as well as generate proposals for business will be further explored.