Name of Regional Directorate: Raipur
Jurisdiction: ChhattisgarhComplete Address of Regional Directorate: 10th Floor, Tower –C, Commercial Complex, CBD, Sector -21, Nava Raipur, Atal Nagar – 492002 (C.G)
Name of Regional Director: Shri Kailash Kumar Kaushik
Contact details of Regional Directorate: Ph: 0771-2999370
Fax: 0771-2999370, E-mail: ro.raipur@ncdc.in
Cooperatives in Chhattisgarh:(as on 31.03.23)
| S.No. | Type of societies | Number |
| --- | --- | --- |
| 1 | Apex Societies | 11 |
| 2 | State level Primary cooperative societies | 31 |
| 3 | Block level /Multi district level primary cooperative societies | 31 |
| 4 | DCCB | 6 |
| 5 | PACS (1391) and LAMPS (667) | 2058 |
| 6 | Primary Seed producer & storage cooperative society | 58 |
| 7 | Primary Fisheries cooperative societies | 1619 |
| 8 | Primary Marketing and Processing cooperative societies | 96 |
| 9 | Primary Dairy cooperative societies | 731 |
| 10 | District cooperative wholesale consumer store | 7 |
| 11 | Primary Gramin House building cooperative societies | 2 |
| 12 | Primary House building cooperative societies | 186 |
| 13 | Primary Industrial Cooperative Society | 106 |
| 14 | Sugar Cooperative Society | 4 |
| 15 | Primary Community Agriculture/Joint Agriculture Cooperative Society | 17 |
| 16 | Primary Multipurpose Cooperative Society | 398 |
| 17 | Primary Transport Cooperative Society | 10 |
| 18 | Primary Weaver Cooperative Society | 385 |
| 19 | Primary Labour Cooperative Society | 76 |
| 20 | Primary Printing Press Cooperative Society | 30 |
| 21 | Primary Fruits, Flowers, Vegetables Producer and Marketing Cooperative Society | 61 |
| 22 | Primary Animal Husbandry Cooperative Society | 2 |
| 23 | Primary Poultry Cooperative Society | 138 |
| 24 | Maize Processing & Marketing Society | 1 |
| 25 | Primary Unemployed Cooperative Society | 6 |
| 26 | Citizen Cooperative Bank | 12 |
| 27 | Primary Non-agriculture Credit Cooperative Societies | 150 |
| 28 | District Minor Forest Producer Cooperative Union | 31 |
| 29 | Primary Forest Producer CooperativeSociety | 907 |
| 30 | District Tree Union | 2 |
| 31 | Primary Tree Society | 61 |
| 32 | Primary Mineral Cooperative Society | 48 |
| 33 | District Cooperative Union | 16 |
| 34 | District Antavyasayi Cooperative Societies | 28 |
| 35 | Primary Consumer Cooperative Store | 790 |
| 36 | Primary Food Security Consumer Cooperative Societies | 3817 |
| 37 | Primary Cooperative Canteen | 6 |
| 38 | Primary Other Cooperative Societies | 180 |
| 39 | Primary Service Sector Cooperative Societies | 3 |
| | Total | 12121 |
(Source – As per Annual report 2022-23, Department of Cooperation, Govt. of Chhattisgarh)
Implementation of NCDC Programmes:
Financial support by NCDC:
Up to 31.03.2023 , NCDC has provided total disbursement of Rs.74817.33 crore benefitting various cooperative projects/units as follows::
S.No.
Scheme/Activity
Cumulative Disbursement as on
31.03.2023 (Rs. in crore)
1
Marketing & Inputs
77669.51
2
ICDP
13.52
3
Sugar
369.98
4
Processing: Oilseeds
0.27
5
Consumer
0.02
6
FPOs Formation
2.26
7
Storage
19.60
8
Fisheries
0.24
9
Others
380.16
Total
78,455.56
Sector wise cumulative disbursements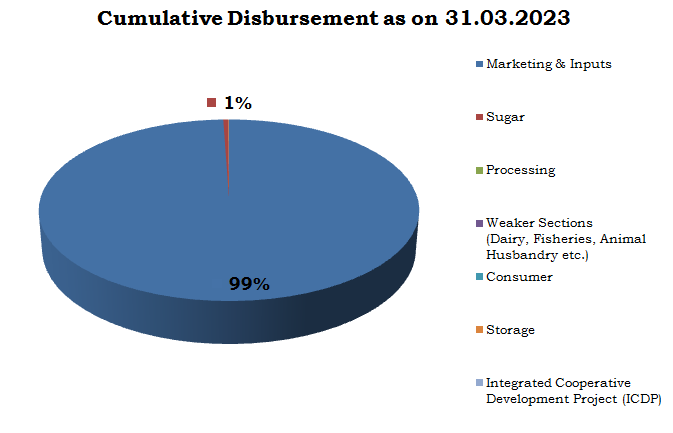 Achievements during last 5 years (Up to 31.03.2023):
Year
Assistance (Rs. in crore)
Sanctions
Disbursements
Number
Amount
2018-19
3
8500.31
8000.31
2019-20
4
8000.40
5500.34
2020-21
2
12000.00
12000.07
2021-22
14
16901.45
12400.86
2022-23
51
18084.90
8502.19
Highlights of the programmes assisted and other relevant Achievements/ issues during the last 5 years (2018-19 to 2022-23):
Chhattisgarh State Cooperative Marketing Federation Limited, Raipur is the Nodal agency for paddy procurement in the State and has been provided with Working capital assistance of ₹8500.00 Cr in F.Y 2022-23 for paddy procurement. The procurement process benefits farmers of the State in realizing better price by purchasing paddy through 2058 PACS/LAMPS of 33 districts of the state. During the last 5 years an amount of ₹46400.00 Cr. has been provided to CG Markfed Ltd towards paddy procurement and purchase of gunny bags.

Sugar cooperative societies namely, Bhoramdev Sahakari Shakkar Utpadak Karkhana Maryadit, Kabirdham District has been assisted with Working capital loan of ₹ 248.98 cr. and Lauh Purush Sardar Vallabh Bhai Patel Sahakari Shakkar Karkhana Limited., Pandriya, Kabirdham has been assisted with Term Loan of ₹81.00 cr. & Working capital of ₹.40.00 cr.

During the year 2019-20, NCDC sanctioned ₹. 8.44 lakh towards construction of 250 MT Capacity Godown under AMI scheme to Bilha Cooperative Marketing Society, Mungeli District. Earlier during the year 2018-19 the society was also provided with NCDC Margin Money assistance of ₹. 34.00 lakh.

During 2022-23, RTC Raipur has conducted 5 online trainings for the co-operators/ representatives of PACS/FPOs.

During 2022-23, RTC Raipur has conducted 3 one-day training cum awareness programme on FFPOs under PMMSY for the co-operators/fishermen & fisherwomen.

New Initiatives in the Region during F.Y. 2022-23:
Formation and Promotion of Farmer Producer Organizations

Formation and Promotion of Fish Farmer Producer Organizations

Establishment of Agro Processing Units/FPOs for value addition.

Promoting activities under PMMSY/AYSHMAN/YUVA Sahakar.

Augmenting infrastructural facilities like godowns by the cooperative societies

Regional Training Centre, Raipur
Initiatives for development of Aspirational Districts (identified by NITI Aayog) through Cooperatives:
Frequent visits have been made into the interiors and remote areas of the aspirational districts for nurturing of cooperatives, to understand the need of the cooperatives and to convince them for diversification from their existing business. PACs have shown their interest in availing assistance under direct funding scheme. 4 FPOs has been formed in Aspirational District.
Development Opportunities in the State through Cooperatives:
Establishment of Agro-processing centers including Rice Mills by cooperatives for doubling the income of the farmers and value addition of the farm produce.

Providing working capital assistance for paddy procurement & Pulses procurement under price support scheme.

Creation of infrastructure facilities by Cooperatives with NCDC finance and dovetailing subsidy from different Central or State Government schemes.

Establishment of Ethanol Plants by Sugar Cooperative societies.

Formation & Promotion of FPOs/FFPOs
Success Stories:
1. The Chhattisgarh State Cooperative Marketing Federation
The Chhattisgarh State Cooperative Marketing Federation is the apex level cooperative federation of Cooperative Marketing societies in the State of Chhattisgarh. Chhattisgarh State Cooperative Marketing Federation Limited, Raipur (Registration No. 216 dated 31.10.2000) came into existence simultaneously with the creation of new Chhattisgarh State on 1st November 2000. The Chhattisgarh Markfed Ltd executes the work of Paddy Procurement under Price Support Scheme during the Khariff Marketing Season (KMS) of the year and undertakes supply of chemical fertilizers and plant protection material to the farmers as per the instructions of the State Government.

The Federation's Business turnover during 2019-20, 2020-21 and 2021-22 are ₹16959.33 Crore, ₹20902.75 Crore and ₹23395.59 Crore respectively, and it is running all its business activities with profitability. During FY 2021-22 the net profit was ₹4.29 Crore. Paddy Procurement under the Price Support Scheme in the State is implemented through 2311 procurement centers belonging to 2058 Primary Agricultural Cooperative societies in 33 districts of the State. The paddy procurement and disposal process is fully computerized from the year 2007-08.

NCDC has been supporting the Chhattisgarh State Cooperative Marketing Federation by way of providing short term working capital loan assistance for Paddy Procurement during Khariff Marketing season (KMS). Since 2011-12, the federation has been provided with working capital assistance of ₹ 74441.14 crore by NCDC (as on 31/03/2023) for procurement of paddy in Chhattisgarh State.